• Miniatures • Printables & Downloads • Witchcraft
Print out your own tiny Tarot deck in 1/6 scale (playscale). They make perfect props, or you can take them with you as tiny divination tools or talismans.
---
• Miniatures • Printables & Downloads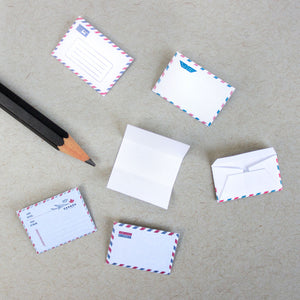 Print your own miniature par avion envelopes with this PDF. 
They're just the right size to hold a few thoughts to pass along to a loved one. Who will you send your tiny letters to?
---
• Miniatures • Printables & Downloads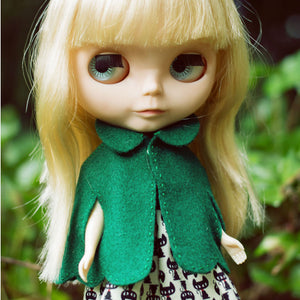 When the weather starts to cool off, I always get in the mood for hand stitching and felt. There's just something so cozy about working with my hands like that.
Tiny objects are best for hand stitching, so I decided to make my Blythe doll a few capes to wear. I made the pattern into a PDF so you can try it, too.
---
• Miniatures • Printables & Downloads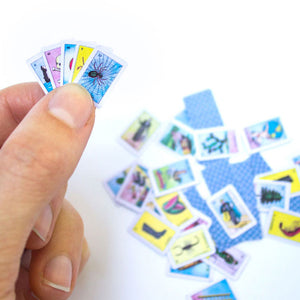 Today I'm getting together with some friends for a dolly meet. Every time the Portland Blythe community gets together, there is a theme, and the theme of today's meet is Piñatas. I have made it my goal to make a new printable for each of the dolly meets' themes (see my Springtime theme and my Valentine theme), and a piñata party seemed like a good fit for a set of Lotería cards. (The excellent kitty dress in the photo below was made by my good friend Julie for my birthday this year. I had a cat-themed birthday party, and she wanted to make sure that my dolly...
---
• Miniatures • Printables & Downloads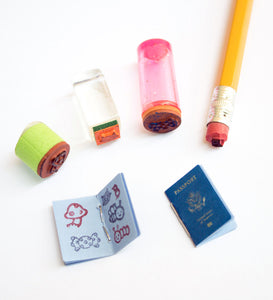 Summertime always gets me into the mood to travel, which inspired this miniature printable. Tiny creatures and dolls must get the traveling bug, too, right? The Blythe-sized train dress is my own creation, and the tiny suitcase was made using a tutorial I found on Design Sponge. The teensy suitcase was just too perfect not to include in this photoshoot. Don't you think? You can print out your own miniature passports for whatever tiny travels you have in mind using the files at the end of this post. Files: • Download Blythe Passport Printable (PDF) - prints on 8.5" x 11" paper• Set...